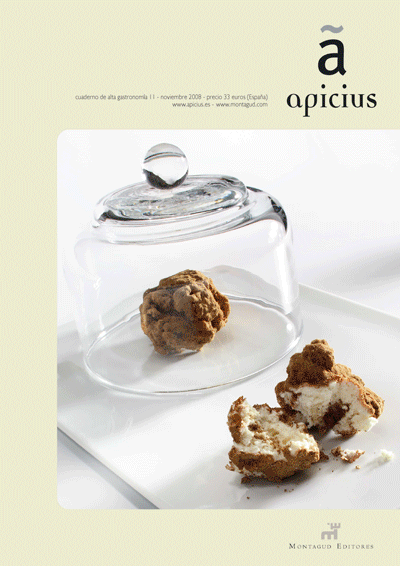 Montagud Editores and Le Sanctuaire proudly presents the long-awaited English edition of Apicius, A Journal of Haute Cuisine.

Backed by the content and quality design that characterize every project introduced by Montagud Editores, the publication opens up to the English-speaking market. The pursuit to bring professionals closer to the interests of chefs from all over the world, the most innovative techniques and an in-depth research of the products, have made of Apicius an influential gastronomic publication. After five years of being part of the Spanish market, and numerous awards later, the journal is already being published in countries with strong culinary traditions such as Italy or France. Belgium, Holland and the United States have recently joined the venture. Montagud Editores, which after more than a hundred years in the world of gastronomy has won the respect of the English-speaking public, reinforces its commitment to the internationalization of its publications with the launching of Apicius in English.

This semi-annual magazine of haute cuisine joins together culinary creations of the professionals most representative of the international gastronomical landscape, of which Ferran Adrià, Quique Dacosta, Andoni Luis Adúriz, Massimiliano Alajmo or Pascal Barbot constitutes famous examples. About 60 elaborations and the development of the most novel and interesting technologies shape this publication. A work of reference to professionals and lovers of cuisine. Published according to the most demanding quality standards, it offers a presentation of avant-garde, excellent photographs and articles reflecting the latest culinary techniques.